Sherwin Williams Gray Paint Colors
Home-buyers are continuing to express that gray colors are their preferred interior paint color. Gray walls present a modern atmosphere, with a fresh and familiar feel. It also compliments a wide range of furnishings. With all of these qualities, it's obvious why so many home-buyers turn to gray as their interior color of choice.
Lazy Gray
Lazy Gray is subtle and relaxing gray. Depending on the lighting, this color can give a blue tone but not enough that it'd be considered baby blue.
Agreeable Gray
I really like how soft this gray feels. It  has just a hint of taupe, which prevents it from looking like a cool gray with blue, green or purple undertones. I'd consider this as a "greige".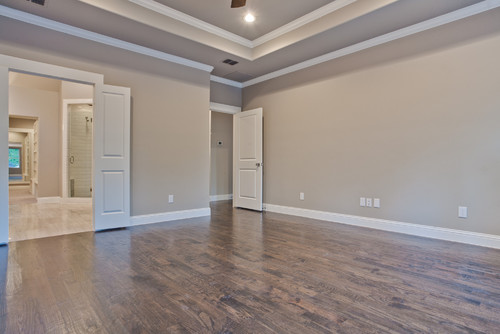 Dorian Gray
This is a warmer gray, with the slightest hint of green undertones. I would consider this to be medium value gray. Pairing it with white will help brighten the area.
Wool Skein
Wool Skein leans slightly toward yellow/green undertones, without overpowering the gray. It's a very muted color that won't necessarily brighten a room or make it too dark.
Gauntlet Gray
Gauntlet Gray works well as an accent wall, and is also an ideal exterior body color. It leans towards the cool spectrum and it looks amazing with white trim or cabinets.
Make sure to check out my article on how to pick the perfect paint color, every time.
Hi there! Welcome to my blog. I'm glad you're here! My name is Alyssa and my passion for DIY and crafting started when I got my first job working at a small hardware store. I worked full time, while also going to school full time and I was eventually promoted to the paint department manager which I ran for about 4 years. Now, almost a decade later, I've learned a lot about different techniques, products and design. I started this blog as a way to inspire and share the things that I've learned with others!